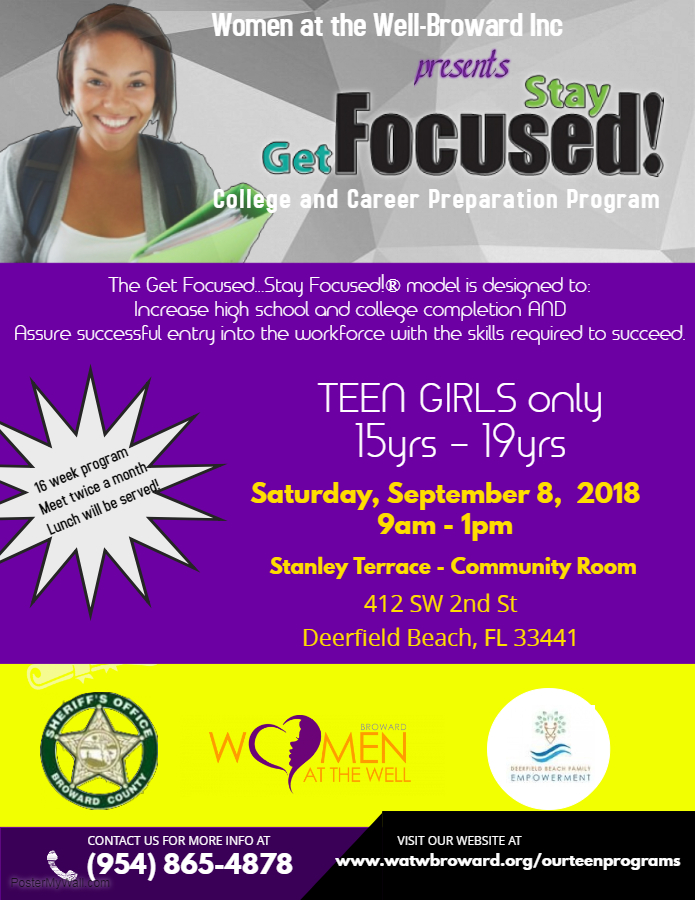 Register your Teen Girl!
The Get Focused...Stay Focused!® model is designed to:
Increase high school and college completion AND
Assure successful entry into the workforce with the skills required to succeed.
College Readiness
Today most students first choose the college they want to attend,
with little thought of a major, much less a career.
It is not surprising that far too many students wander through the
educational maze and do not complete. In reality, it is a career path
that should indicate which major or program of study to take, which in turn should dictate which college to attend.
Get Focused...Stay Focused!®
The Women at the Well-Broward, College and Career Readiness Workshops is starting September 8, 2018. The workshops are presented under the Get Focused...Stay Focused!® model.
The Get Focused...Stay Focused!® model is designed to:
Increase high school and college completion AND
Assure successful entry into the workforce with the skills required to succeed.
The college and career readiness workshops are currently open to 25 participants. Workshops are on Saturdays, twice a month, during the 2018-2019 school calendar.
Location:
Stanley Terrace - Community Room
412 SW 2nd St
Deerfield Beach, FL 33441
Time: 9am-1pm
The teen girls will complete their Career Choices workbook and portfolio, create a 10-year education, career and life plan and visit three (3) college campuses in Florida through the 2018-2019 school year.
The keystone of the program is an online 10-year career, life and education plan that is broader than the four-year education plans. Teens develop and then upgrade and enhance an online 10-year Plan of their own design.  This tool was designed to propel teens from high school graduation into and through college or postsecondary training and into employment that leads to economic self-sufficiency and life satisfaction.  Why? When the teen  girls know their career pathway, they enter postsecondary education ready to declare a major or program of study that matches their individual drives and life goals.
The Program activities will:
PERSONAL SOCIAL DEVELOPMENT
Help teens envision a future that is productive, achievable, and stimulating.
Provide the framework for helping teens learn to project into the future and understand the consequences of today's choices and actions.
Expose teens to potential stumbling blocks that could impede their success and help them develop the necessary coping skills and attitudes required for a productive transition into adulthood.
Help teens become identity-achieved, a necessary developmental process for all adolescents, but particularly necessary for youth at risk of becoming teen parents, substance abusers, or dropouts. Provide practice in the communication and interpersonal skills required for career and personal success.
EDUCATIONAL ACHIEVEMENT
Facilitate teens' recognition of the value of education and the importance of becoming internally motivated to succeed in school.
Motivate teens who challenge themselves and strive for higher achievement.
Help teens understand how education, training, and career choice impact their personal lifestyle. Motivate teens to apply themselves, because once they understand how core subjects (e.g., reading, writing, speaking, computing) impact their future success, academic achievement will increase.
CAREER AND LIFE SKILLS
Teach a life and career planning "process," so teens can continually adjust their plans throughout their education and adult life.
Help teens become "career focused," so every teens is prepared to enter the workforce upon completion of their education.
Facilitate the development of a personalized ten-year plan that matches each teen's career aspirations and commitment to education.
Teach teens the skills, aptitudes, and attitudes needed to successfully transition into high school, post-secondary education and/or training, the workforce, and adulthood.
Meet our Sponsors
We can't emphasize enough how important community partnerships are for our organization's success.
Deerfield Beach, FL
As an effort to reach and service at-risk teen girls in the Deerfield Beach community, Women at the Well-Broward, has partnered with the Deerfield Beach Housing Authority through their non-profit organization "Deerfield Beach Family Empowerment, Inc.
Broward Sheriff Office LETF Funds
Every year, the Broward Sheriff's Office helps local non-profit organizations further their mission in the community.
Next Steps...
Thank for your interest in the Get Focused...Stay Focused!® Workshops. Please be advised that our programs constantly accumulate a waiting list of eager parents who want to enroll their teen in our programs. Therefore, as soon as you receive an email alert that registration is open for our programs, we strongly advise you to respond immediately.
Our Fall Registration is now open!
Registration for the 2018-2019 program opened online at 11:00 AM EST on Monday, August 6th